Garbage not collected by the city
Garbage that cannot be accepted by municipal facilities
Small rechargeable batteries
Items with the following symbols should be taken to the JBRC's recycle boxes. Boxes are located at public facilities and electrical appliance shops.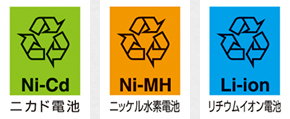 *Insulate each end of the battery with cellophane tape.
*Remove any batteries from the device and take the battery only.
Check the website below to search for collection locations (e.g. electrical appliance shops) other than those listed above.
Japan Portable Rechargeable Battery Recycling Center
Swollen, leaking or damaged batteries
If the battery is swollen, leaking or damaged, it cannot be collected at JBRC's collection boxes. Consult the device's retailer or manufacturer about disposal. If they cannot collect them, take them to one of the recycle boxes at public facilities in accordance with the following precautionary notes.
*If you cannot remove batteries from the device, first consult the retailer or manufacturer. Small electronic devices such as cell phones and handy fans can be disposed of at one of the small electronic device collection boxes.
*Heated tobacco products and e-cigarettes should be collected by the Japan Tobacco Association or taken to one of the dry cell battery collection boxes located in electronics shops and public facilities in the city.
*Electric bicycle batteries must be collected by electric bicycle retailers. Information can be found on the JBRC website.
Button batteries (model number beginning with SR, LR or PR)
Insulate the batteries with cellophane tape, and place them in the collection cans available at cooperating collection stores (electrical appliance shops, etc.). Check the website below for information on the collection stores.
*Dispose of coin-type batteries with a model number beginning with CR or BR as non-burnable garbage.
Fire extinguishers
The Japan Fire Extinguisher Manufacturers Association cooperates with local distributors in disposing of fire extinguishers. For more information, see the website of the Fire Extinguisher Recycle Promotion Center.
Motorcycles
Dispose of motorcycles by contacting the dealer or through the Motorcycle Recycling System implemented by manufacturers. For more information, visit the website of the Automobile Recycling Promotion Center.
Items other than the above
Air conditioners, televisions, refrigerators, freezers, washing machines and clothes dryers
Click here for information on how to dispose of the above items.
Personal computers
Click here for information on how to dispose of personal computers.
Commercial waste
Garbage from companies, stores, hospitals and other businesses cannot be put out as residential waste.
Click here for information on how to dispose of commercial waste.​
Others
The city does not collect items such as LP gas cylinders, cans of paint and kerosene that are not empty, automobiles, tyres, pianos, batteries, agricultural equipment and pesticides, because these items cannot be disposed of at municipal waste disposal facilities. Consult the dealer or manufacturer on how to dispose of these items.
One time disposals of a large amount of waste
If you have generated an irregular amount of waste, such as when moving house, that cannot be disposed of on the normal garbage disposal day, please dispose of it by one of the following ways.
1

Taking garbage to waste processing facilities

Contact the Reception Center for Individual Carry-In by phone or online to make arrangements to take garbage yourself.
Waste Processing Fee
Waste Processing Fee Up to 10 kg 140 yen
About handling of personal information
Any personal information you give to the Reception Center for Individual Carry-In will not be used for any other purposes than to compile waste collection records and general waste statistics.
Use authorized collection companies to dispose of garbage or to transport garbage for disposal. Please check with them about fees.
See the page on Requesting General Waste Collection & Transport to Authorized Company for more information.